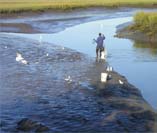 The Edisto Island National Scenic Byway (Highway 174) slices through the center of this largely unspoiled barrier island, which seems to have stopped the clock half a century ago. This Edi-slow travel experience begins at the foot of the McKinley Washington Bridge, which spans the Intracoastal Waterway, and ends 13.5 miles later at the Atlantic Ocean on Edisto Beach.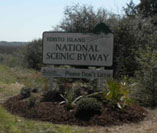 Along the Byway there is much to soothe the spirit and awaken the senses. Traveling through tunnels of moss-draped live oak canopies, the Byway opens to expansive marsh vistas with meandering creeks, ever changing with the tides and the seasons. You may spot bald eagles, egrets, wood storks, osprey, hawks and herons, or catch a glimpse of songbirds, mammals and reptiles, as the Byway rambles past tidal creeks, maritime forests, farm fields, roadside markets, conserved lands, and historic churches and buildings. The Byways many points of interest tell the story of a community of people living and working on the island, many with roots that go back to the late 1600s.
CONTACT INFORMATION
Edisto Island Preservation Alliance
PreserveEdisto@bellsouth.net

Edisto Island Chamber of Commerce
eichamber@aol.com
The Edisto Island National Scenic Byway is a priority project of the Edisto Island Preservation Alliance, a 501(c)3 non-profit. For more information about the EINSB's Corridor Management Plan and how you can help with our projects to improve recreational access and enhance Byway beautification, visit EIPA's website www.preserveedisto.org.
ATTRACTIONS MAP
The "Edi-slow" tour along the Scenic Byway from the Dawhoo River Bridge to the Atlantic Ocean will take you to 30 Points of Interest along the way.
NATURAL LANDS
Edisto Island has over 50% of its landmass protected and many threatened or endangered species enjoy the natural habitat here.
HISTORY
Edisto's rich heritage began 5,000 years ago with the Native Americans, followed by European colonization in the 1600's, the Revolutionary War in the 1700's and the Civil War in the1800's
ACE BASIN RECREATION
Edisto Island is a barrier island lying within a large tidal basin known as the ACE Basin, where the Ashepoo, Combahee, and Edisto Rivers meander on their journey to the sea. There are numerous parks and nature trails throughout the ACE Basin.